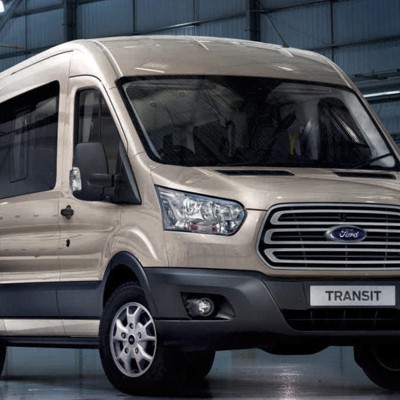 AbiliTrax Quick Release Seating
The AbiliTrax system consists of a series of parallel, floor mounted tracks which are securely bolted through the floor of the vehicle. The tracks consist of a repeating pattern of cut outs that are designed to accept both "A" and "L" style tie downs (most commonly used for wheelchair and cargo securement) as well as our specially designed seat bases. The tie downs and seat bases may be positioned anywhere along the track system (front to back and side to side) for passenger transport, seat storage, or complete removal if so desired. Our exclusive, premium seat provides a "step and lock" latching system that allows the seats to be removed and reinstalled in seconds from a standing position with no tools. These bases are also provided with wheels for easy transport. Our exclusive flip up seat cushion also allows easier handling, passenger access and compact, "nest-able" storage. In cases where seats are not required to be moved or removed quickly or frequently, our "economy" seat bases are a lower cost alternative that attach to the same track system but require the use of hand tools. There are also a variety of optional devices and features that are designed to "plug and play" into the AbiliTrax system.
Why AbiliTrax?
Since the Mid 1980's companies have been modifying vans and buses to fit the needs of the disabled community. In that time there has been thousands of combinations of seats, lifts and wheelchairs tie-down positions installed into these vehicles. Each community organization having its own challenges as unique as the individuals they
AbiliTrax Modualr Seating
AbiliTrax is a common Platform that integrates quick disconnect AbiliTrax seating with several different wheelchair tie – downs options with wheelchair lifts and several other accessories using a floor grid system. This platform allows users to change the configuration of a vehicle in seconds.
Removable Modular Seating
This innovative seating system can transform from transporting wheelchair's to a 15 passenger van with the removable seating. With a smooth latching/unlatching quick release seat that is completed with a foot operation. No tools will be required to transform these quick release modular seating system.
Install an AbiliTrax floor for unlimited configurations!
You have the choice to eliminate single floor plan options with AbiliTrax flooring solutions. Never face expensive alterations as your company expands it's client base or simply has a special request. With this common platform you will have the capability to grow your business without down time at dealers, and empower company staff to make changes at the start of the day, or on the fly in the field.